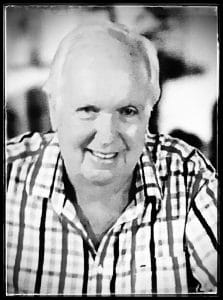 Tuesday 19 February: It was a sad farewell to Terry Dempsey, the multi-award winning 77-year-old songwriter, music composer, record producer, and music publisher, who died in tragic circumstances on Sunday 10 February.
Terry and his wife Carrie were joined by their children and grandchildren at the Vaal Marina, just over an hour's drive from Johannesburg, to pay their respects to a close family member whose ashes were to be scattered from a gyrocopter. Before the ceremony even began, the gyrocopter got into trouble and came down where Terry was standing, killing him instantly.
Many music industry colleagues attended the short, solemn service at the St. Charles Catholic Church in Linden as well as the tea at Parkview golf club, but the family was too heartsore for any tributes other than Carrie's heartfelt eulogy to her husband, read by their son, Paul.
Describing her relationship with Terry as "so close we were one entity", Carrie will forever be haunted by her last memory of her husband of 52 years.
Terry's legacy of top-notch songs includes Daydreamer, which was a No. 1 UK hit for David Cassidy, Love is a Beautiful Song, No 1 in SA, Canada and Australia for Dave Mills, and Le Mal Aimé, No. 1 in France for Claude François. Other name acts who recorded Dempsey compositions included Petula Clark, Cilla Black, Tom Jones, Cliff Richard, and Tina Turner.
He also composed the theme music for The Comrades, Topsport and The Million Dollar Golf, to name but a few, and he produced Bill Flynn and Paul Slabolepszy's feature film Heel Against The Head, for which he also wrote the film score.
Terry founded The Loony's (sic), which became the SA music industry's official charity organisation with Terry at the helm as president for 20 years.