Openings at The Storr Room and Widmer & Co, and an exhibition of advertising posters from Andy Rice and Ken Preston, proved a great drawcard to Melville's 27 Boxes on Thursday (September 14). It was an encouraging sign of what 27 Boxes could become with a revived thrust to make this retail space a relevant attraction.
New tenant Charles Taynton Storr had his second opening – this time without a lengthy City Power outage sabotaging the event. Charles is head designer and founder of The Storr Room – which now boasts its first shop – where the public can enjoy his bespoke furniture and other things besides, like liquorice allsorts' necklaces and metal sculptures. My own favourite is Limelight, a rectangle of stone approximately 300mm x 150mm, that lights up (and sells for R750).
Before he opened, Charles told me that he planned symbiotic joint launches and if last night was anything to go by, they could become a highlight on the Melville 27 Boxes calendar.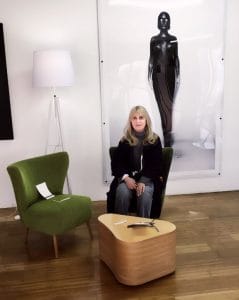 A couple of shops away on the same level as The Storr Room, a second custom-made furniture outlet, Widmer & Co, has taken over the double-storey space that started out as a short-lived restaurant. There are some gems among itsofferings – I liked two upholstered chairs scaled for the likes of me to sit comfortably with two feet on the floor.
On the equally spacious upper deck of Widmer & Co's shop, a fabulous exhibition attracted guests from afar. Well-known branding and advertising expert Andy Rice shared a wonderful selection of his Blast from the Past advertising posters in an exhibition that included a contribution of rare SA heritage prints from Ken Preston's Brand Museum collection, some going back to the 1800s.
There are many memorable images for sale and among those that caught my eye were the Coca-Cola ads that recurringly featured Santa Claus, an association that started in the 1920s.
It was a fun night and Andy tells me many of those who trekked to Melville from the north headed for our restaurants. Altogether good news.
* At this stage the exhibition runs for a week so do yourself a favour and pop into 27 Boxes.