To call Charles Storr a furniture designer is only half the story. A colourful character with an original take on style, Charles is a welcome addition to 27 Boxes and is certain to breathe new life into Melville's retail landscape.
Founder, owner and head designer of The Storr Room since 2012, Charles and his team bring together the traditional formality of Charles' early years in London and the adventurous, bold and beautiful grittiness of Africa.
Decades ago, he arrived in Johannesburg unknown and unannounced. I recall phoning another Charles in Westdene and an unfamiliar voice answered the telephone. "May I speak to Charles?" I asked. "This is Charles," he replied, mischievously. Filling the silence, he added: "I'm Charles Storr, you wouldn't know me." "But I do know you," I retorted. This time he was silent, then added, "You couldn't possibly, I arrived from London today."
"I knew you as manager of Parsons," I replied. Parsons, owned by a friend of Princess Margaret, was possibly the trendiest restaurant in London's Fulham Road in the 1970s, where wannabe patrons queued outside the see-through ceiling-to-floor glass frontage, often to be refused entry on a whim. Anything could happen there and it often did; I remember an Easter surprise when a priest descended into the restaurant through a skylight, bearing hot cross buns. It was a buzzy place ahead of its time – which is a suitable enough description of Charles Storr.
Charles metamorphosed into a furniture designer many years later but it was a natural progression from the interior designer he became post-Parsons. He started out working for well-known London designer Nicky Haslam and he lists Pink Floyd, Cat Stephens and Freddie Mercury among his stellar clientele.
Unsurprisingly, when he launched himself upon an unsuspecting Jozi, Charles set his sights on South Africa's high rollers. A party boy of old, he was welcomed with open arms. Some may recall the flamboyant parties masquerading as exhibitions of bright new talent (or vice versa) that Charles and his then partner Heather Greig hosted at Merely Mortal, in Craighall. Precursors to the pop-up concept, Charles plans similar happenings at 27 Boxes.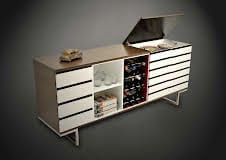 An indication that Charles was part of the in-crowd came with The Agony and The Ecstacy, his 2009 joint exhibition with fashion designer David Tlale at the MOMO Gallery in Johannesburg. Describing those pieces as "essential fashion items", opening night guests might have wondered about their functionality but Charles was on a roll. Next up, he was to headline a high profile exhibition at the Sandton Civic Art Gallery.
Sadly, it was not to be as Charles was the victim of a hit-and-run driver. His recuperation was long and arduous but with his inate resilience, persistence and determination, Charles is back with a bang.
Working with some of the city's best joiners and collaborating with a host of designers, the new venture is Charles' first shop. "There is only so much you can do over the Internet," Charles says. "You need to touch and feel and see that South African product can be as imaginative and as professionally manufactured as the the best in the world."
Lights are part and parcel of his work. "Lighting for me is the most important part of an interior. We will be working with a brilliant company of young product designers to produce work in materials that have never been attempted before."
Charles is unlikely to curtail his expensive, bespoke pieces but the good news is that he has been persuaded to cater for us lesser mortals at prices we can afford.
The Storr Room officially opens at 27 Boxes on August 20 and 21. For more information, phone The Storr Room on 011482 2163 or visit his website at thestorrroom.com